You know, it's funny. When I wrote "
The Biggest Storm of My Life
", I was very convinced that my trial had reached it's climax, and I was on the upward ascent to victory. A few days ago confirmed that I was completely WRONG!
I found myself lower than I even imagined I could get.
As I've spent time just, discouraged, to be honest, and thinking about all that I stand to lose,
God has remained unchanging and continuously faithful.
Interestingly enough, a few days before I received news that my situation had turned for the worst, I started reading
the story of Joseph
as a refresher. He was persecuted for no reason, I'm being persecuted for no reason; it just makes sense that God would lead me to this reading in the Bible. I knew I could gleam strength from his story to encourage me in mine.
As I am still in the midst of reading, God has put this thought on my heart
"Losing is Winning"
.
As soon as I learn how to put text up on Instagram, I'm going to put up something like...
"If you wrongfully and unjustly lost everything; your status, your family, your job security, your belongings, would you still have faith to trust God and smile through it? If the answer is not an immediate yes, you have a limited faith. The Christian walk requires a limitless faith."
This thought came to me the other day and it wrecked me.
I thought I had GIGANTIC FAITH! Especially throughout this last month of unforeseen struggles. Yes God! I can be in this situation and smile because I know what the outcome will be! And then, the outcome is the complete opposite, and I lose it. I start crying. I start thinking about what people will say, how my reputation will be fried, how I'll be miserable, how everything I've ever worked towards career-wise will be finished, how I won't be able to sustain my life financially. Like, that's only human right?
In my human mind, worrying is completely justifiable when you are standing at a crossroads where you could literally lose everything you've planned your life for.
So as I meditated on this thought, the Holy Spirit began to speak to me on this topic.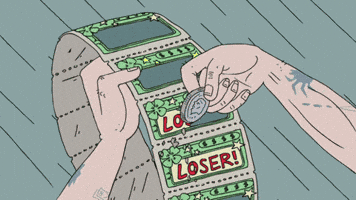 In the Christian walk, you HAVE to be willing to lose everything you so selfishly grip, in order to be completely moldable by God.

Selfish? No. That's not you. That's not me. But here's the thing, if you are clinging to YOUR life plans and what YOU have set yourself out to do, you're getting in the way of God's plan. Maybe whatever you planned was only supposed to last for a season, to prepare you for the next season God has for you. Maybe what seemed to be your plan is only a stepping stone to lead you into what God has in store for you. Maybe you have operated in "your plans" for so long, God permitted them, but now He's leading you to step into not just what He permits, but what He has planned. You'll never know if you cling to the cares of this world. So much harder to do than say... Literally, I get it. This is me right now that I'm speaking to lol

The Word of God calls us to forsake everything to follow Christ. That means, we can't get attached to things of this world, which we inevitably do.




Matthew 19:29- "And every one that hath forsaken houses, or brethren, or sisters, or father, or mother, or wife, or children, or lands, for my name's sake, shall receive an hundredfold, and shall inherit everlasting life." This verse is a promise that anyone who is willing to forsake ANY and EVERYTHING for the sake of Christ will be blessed abundantly, in addition to the blessing of salvation and everlasting life. Loosen your grip on the things of this world. Luke 14:26-27, "

If any man come to me, and hate not his father, and mother, and wife, and children, and brethren, and sisters, yea, and his own life also, he cannot be my disciple.

And whosoever doth not bear his cross, and come after me, cannot be my disciple.

" It's so hard to embrace, but God is the GOD OF THE UNIVERSE! We have to understand that the little bit we cling to, He can take away, bless us and restore us to even more than what we first had. You have to be unwilling to cling to anything of this life, because it's all temporary. Trials will come. Persecution will come, just as it did for Christ. And it will be WRONGFUL, but it is all a part of being a follower of Christ, which is what you've committed to.

There are 2 people in the Bible that I think of.

Joseph- Joseph had a distinct calling on his life from before birth. He had a special favor on his life being the son of Jacob, and his mother was Rachel, instead of Leah, like the rest of his brothers. Rachel was Jacob's cherished wife whom he sought after a few chapters before. Jacob worked 14 years to earn her hand in marriage, even after being tricked by his uncle and working 7 years to receive Leah. Nonetheless, it's important to note that Joseph's favor and calling was placed on him, not something he asked for, yet he was persecuted by his very family because of it. You know the story... his brothers hated him so much that they plotted to kill him, but instead sold him into slavery, yet God was with him. He ends up being sold to Potiphar and is blessed in that position, until he is wrongfully thrown into prison when Potiphar's life lies on him and loses his job. He ends up being blessed in prison and receives leadership positions. He speaks over the lives of those there, and when they're released, they forget him. He eventually is called on by Pharoah to interpret a dream (Joseph's calling), and Pharaoah makes him 2nd in command to all of Egypt. Joseph then ends up saving Egypt from destruction, the world, and particularly, his family that originally persecuted him and sold him to slavery. This is a perfect example of how you can be wrongfully persecuted and God can use it all for your good.

Each time that Joseph went through heartache, whether with his family's rejection, being sold into slavery, wrongfully fired by Potiphar, or wrongfully wasting away in jail, it looked like it was the end of the world. Yet each time, the Bible says, "God was with him" and each time, he was restored and prospered. God can do it for you too! He can do it for me! In your darkest times, when you cannot see a way out of no way, GOD IS STILL WITH YOU! Just hold on! You WILL have to endure, but he can take your ashes and make them beautiful!

Job-

Ahh, Job. Job had everything! Like, he had it going on! The Bible says, Job was

"perfect and upright, and one that feared God, and eschewed evil."

He had 7 sons, 3 daughters, 7,000 sheep, 3,000 camels, 500 yoke of oxen, and 500 female donkeys, a great household, and he was the greatest of all the men of the east (Job 1:2-3), Job was a pretty big deal, and even in his wealth, he had a reverence for and a relationship with God. So much so, that God recommended Job to Satan for attacks, because He knew Job would never forsake Him and could handle it. Man, can you imagine that GOD himself thinks you are such a strong Christian that He recommends you to Satan because He knows you won't falter or fall? Wow.

What would God say about me? Would He recommend me?

A few verses later, we see Job finding out that all at once, his children have been killed, all of his animals captured, stolen, or engulfed in flames, servants killed; everything gone in the blink of an eye. Think about for a rich person to lose all of their riches, and then their kids! He soon finds himself sick with sore boils, scraping them off of his body. His wife tells him to just curse God and die, and he refuses. In the midst of total loss,

Job worships and says, "...The Lord gave, and the Lord hath taken away; blessed be the name of the Lord. In all this Job sinned not, nor charged God foolishly."

Job lost everything at once yet clung to God unquestioningly throughout the entire thing. While he did lose, he won in the end. Chapter 42, verse 10

"...the Lord gave Job twice as much as he had before.",,, verse 12, "...The Lord blessed the latter end of Job more than his beginning."

Job is the man. You know why? He got it. He understood the lesson. He understand that during his time on earth, nothing belongs to him and whatever he earns or loses, God is in control and is worthy of the praise all the way through it. What a perspective to have! It's definitely the right perspective. I wish I could be like Job!

Some losses will have to be endured, but God is intentional and using them for your good.

This is the toughest part for me. I know that God is a Restorer, but I struggle with the realization that loss has to occur. You can't RESIST loss AND be doubly blessed at the same time. Joseph lost his family for a large chunk of his life. He lost his reputation with Potiphar. He lost his job with Potiphar. He lost years of his life while being imprisoned. Job lost, literally, everything. Jesus lost years from being in Heaven. By coming to earth and through the cross, he lost his status, his royalty, his dignity-his life. Friend, you will lose something. There's no way to avoid it. God very much can turn your situation around, but

what if He doesn't change it in the way you want and He allows you to lose that job? that friend? or whatever it is that you've placed security in?

There's no

easy way to smooth over losing something wrongfully, but what's helping me is looking forward. Don't dwell on the loss. If God has orchestrated and allowed it, you have to cling to the promise that He has a purpose and GREATER WILL COME. Matthew 6:33 says, "

But seek ye first the kingdom of God, and his righteousness; and all these things shall be added unto you.

" Set your mind to what God will bring to past, not on what He is taking away. Recognize that whatever He takes away, He will restore to you (it may not be the exact same thing, but whatever need it fulfilled will be restored even more than before).

Ecclesiastes 3 says, "

To every thing there is a season, and a time to every purpose under the heaven...

a time to break down, and a time to build up;

A time to get, and a time to lose; a time to keep, and a time to cast away...

He hath made every thing beautiful in his time:"
Friend, it's hard to embrace the fact that we will have to lose, by the world's standards, in order to win by God's standards, but the Bible says it, so it is so. "Let the church say amen!" Realize that God will not put more on you than you can bear. If you're going through something that feels so heavy right now, you have to understand that 1) God knows 2) God is there and 3) God thinks you're strong enough that you can handle it. He will never leave you nor forsake you! Cling to that! Whatever you lose in this season, is coming back at you! God WILL restore you, for His name sake. Let him mold you, over and over again, knowing that "...when he hath tried me, I shall come forth as gold."
Take the L now, for God to build you up for the win that will come! Keep the faith! God is greater than your circumstance! What you're going through DID NOT catch Him by surprise! Greater will come!
Praying Fervently While Holding God's Hand,
Dear God, You are great! You are all knowing! All powerful! Every present! There is NOTHING that You cannot do! God, before we were even formed in our mother's womb, You knew us and You had a plan for us. Nothing that we go through catches you by surprise, including this very circumstance that I or any reader is going through. You are never changing. While circumstances may change us, they never change You. Help us to cling to You for stability, for strength, for support, and so much more. Lead us, O God! Strengthen us to endure losses, realizing that You are intentionally weeding things out of our lives that CANNOT go with us into where You are leading us. Help us to rest assure that whatever You take away, You will restore! We cannot be bound and limited by the love of stuff or circumstances. The very act of losing them may be Your way of revealing that some of the junk in our lives are idols and disrupt our intimacy with You. Show us God, and help us to follow Your ways even when You don't make your ways clear to us. You deserve our full trust and our full surrenderance in all we do. Thank You, God, for your greatness, who You are, what You're doing, and what You will do. In Jesus's name, I pray. Amen.
Jekalyn Carr- Greater is Coming
Yolanda Adams- Step Aside