So I've been meaning to blog about this topic for awhile because it seems to be a reoccurring theme when I talk to others about life, but TBH other than "What God has for you is FOR YOU", I've been clueless on how to approach it and support it more thoroughly until tonight.
Text: 1 Samuel 1
Background: Hannah was 1 of 2 of Elkanah's wives. 1 of his wives, Peninnah was fertile, while Hannah was barren. Peninnah would tease and taunt Hannah for being childless, to the point that Hannah was bitter and sorrowful regarding her situation. After years of frustration, we see her desperately crying out to God for a breakthrough to which God then opened her womb for her to birth Samuel. Samuel was dedicated back to God and lived in the temple with the priest, Eli, and later became a prophet to God's people and spiritual guidance to the only man ever to be called "A Man After God's Own Heart"- David.
1)
There WILL be people around you that have the things you want for yourself. Don't get discouraged!
It's no secret- polygamy was a common societal practice at the time the Old Testament was written. Elkanah had 2 wives; Peninnah and Hannah. Hannah longed to have a child but was barren. There was nothing she could do. There was no egg transplant, IVF, surrogacy.... You either were fertile or NAH. For Hannah, it was nah lol. And to make matters worse, right there in her household was another woman giving her husband the very thing she was incapable of giving. That's so heartwrenching!
The Bible doesn't give us much information regarding how many children Peninnah had with Elkanah, but I'm just going to infer that it was many. I'm sure that she had many children just to be spiteful and make Hannah feel bad. I'm sure Peninnah had no fertility issues; she probably birthed her children like a pro, completely detached from the inkling of hope that Hannah clung to to even birth ONE child, let alone multiples.
That's the people you're over there comparing yourself to. You're hung up in the fact that they have what you don't have, and to be honest, they don't care about your struggles, and you're just letting their lives have power over you.
Isn't that how it seems in our lives? The things we desire most, we watch someone else get them right before eyes... I mean, not even a stranger that we know distantly.
It always seems to be someone we really know. Someone we've rooted for... until they get or achieve the very thing we've desired for our own selves.
We're waiting for Prince Charming, and our newsfeeds are filled with booed up people, engagements, and new marriages (HELLO SOMEBODY!). Those newlyweds we celebrated are now moving in to their dream house with the white picket fence and Pinterest-worthy decorations while we're still living at home with Mommy and Daddy. That raise or job promotion we've been waiting on goes to that co-worker who we've helped master the hardest of skills
or that co-worker who does nothing but know the right people to move up
. Yeah. It happens, Friend. None of us are immune from being around AT LEAST 1 person who reaches our goal before we get to. "Always a bridesmaid, never a bride."
except I'm never a bridesmaid either LOL!
2) What seems to be a "NO" is very much a "NOT NOW; NOT THE WAY YOU INTEND", and even then, your lack is laced with love.
So there's Hannah- barren and watching Peninnah reach the milestone she so desperately longed to achieve. She was discouraged, yet the Bible says in verse 5, "...But the Lord had shut up her womb." To Hannah, it seemed as though God had forsaken her; forgotten her. It seemed as she was being punished unjustly while others so close to her prospered like a boss, but what she couldn't see was that
the whole time God had INTENTIONALLY disallowed her from birthing children; from reaching her #1 goal
.
Even in the times that we feel God is not listening to the desires of our hearts, He is. God's answer to your prayer does not have to be delivered in the very way that you want. That's why He's God and you aren't. Trust that in due season, you WILL reap what you sow. Your harvest WILL come.
None of us want to hear "BE PATIENT". Trust me. I GET IT! I am the self-proclaimed WORST at being patient. I'd much rather figure out an answer and live with the mistake SMH, which by the way is the worst thing to do lol. But in my season right now,
God is teaching me to relinquish control of my situations and trust Him, even at times when He seems still. What I'm realizing is HE IS ALWAYS THERE. He will never leave me nor forsake me; I know it for a fact! God cannot fail. His plan for your life is perfect; it was pre-determined before you were even born. God is a Mastermind and so intricately weaves things together for good. Don't doubt His planning just because you can't see it.
While God had intentionally shut Hannah's womb,
she was still loved and cared for
. Verse 4 and 5 say, "
And when the time was that Elkanah offered, he gave to Peninnah his wife, and to all her sons and her daughters, portions: But unto Hannah he gave a worthy portion; for he loved Hannah..."
Some scholars say that Hannah's worthy portion was double that of Peninnah's.
That's favor and providence!
Being able to bare children to your husband was THE duty of a wife in those days. I'm sure Hannah felt terrible that she couldn't provide that for her husband. In spite of this, God provided her with a husband who would love her through her barrenness; in fact, Elkanah gave her more than the wife that Hannah probably aspired to be more like.
Isn't that us? We get so caught up in our envy or jealousy of someone around us who
has what we want
at the time we want
that we fail to see the provision God has made for us in the meantime.
God can give you joy all while saying, "Not now, my child". God can do exceeding and abundantly above what you're ASKING or THINKING, even while saying, "Wait, my child."
DO NOT LIMIT GOD'S CAPABILITIES AND THE MAGNITUDE OF HISINTENTIONALITY BECAUSE HE HAS NOT ANSWERED YOUR PRAYER IN YOUR PRE-DETERMINED TIME!
Again, I'm a witness. I look back at the trial I'm in the midst of and the manner in which I wanted God to deliver me from the struggle, is the very thing that I DON'T want now, because what God had for me has proved to be so much more joyous than what I was expecting Him to do.
No matter how impatient or discouraged you may be about what you THINK God is not doing in your life, you have to trust this: "
For I know the thoughts that I think toward you, saith the LORD, thoughts of peace, and not of evil, to give you an expected end.
" (Jeremiah 29:11)
Think about that. God thinks about YOU!
He has plans for you that He has very thoughtfully considered, and like a Father to His child, He gives you what you need, not necessarily what you want, because He knows what's best for you, even when you disagree.
3) People can be jerks sometimes. There's no way to avoid it. Choose NOT to retaliate.
You know the saying, "Kick them while they're down"... That epitomizes Peninnah. The Bible says Peninnah provoked Hannah "sore"... That means she REALLY hurt Hannah... Like, low blows. Can you imagine what she may have said? "That's why your man don't want you!" or "He only loves you out of pity." or "Women have children. Maybe you're actually a man since you can't have any."
That's how the enemy works. Sowing seeds of discouragement to drive us even more down in despair, distracting us from trusting God's steering of our situations.
Verse 7 tells us that Hannah was in such despair that year after year, she wept about her situation, and at times couldn't even bring herself to eat. Listen, that's being distraught... When you can't eat!? Verse 10 tells us, "she was in bitterness of soul". Understand that this was not a small thing... Hannah was completely overtaken by being barren.
Don't allow yourself to fight spiritual battles in the flesh. You won't win; You can't.
God was doing something great in Hannah's life, spiritually, by taking her through hardships that would force her to depend on God.
He's doing the same for you. What's meant to be yours WILL be yours in due time; don't get distracted by battles you aren't mean to fight.
She could've responded to Peninnah, been spiteful, etc., but that was a distraction to the entire point of the situation. Y
ou gotta understand that God desires YOU! He created you. He loves you. He desires time with you and craves your worship. You can't worship God distracted by people or caught up in your feelings.
Hurt people hurt people who continue to perpetuate a cycle of hurt. Hurt people can be healed of hurt by running to the Healer instead of the hurtful haters.
When you're faced with the option of comparing your situation to other people's, you have to 1) Trust that God has a plan and 2) Cling to Him during the wait.
4) Use the hurt to push you closer and closer to God.
If God can make a way when we think there's no way, the LEAST we can do is cling to Him while He takes us through and to it.
The Bible describes Hannah as bitter. I'm sure she was consumed with hatred towards Peninnah... I would be. Every day she had to not only be reminded of her lack, but salt was thrown on her wound by her having to be taunted by her husband's other wife :-/ Her husband tried to encourage her in verse 8, and while he managed to get her to eat and drink, which was progress, she's still described as bitter in her soul and then crying, to the extreme ("wept sore"). But verse 10 tells us, in the midst of it, she "prayed unto the LORD"...
She went to the temple and laid it all out on the altar; surrendering her will to God.
In verse 11 we see, "she vowed a vow". Verses 11 and 12 tell us that Hannah cried out to God for a breakthrough and made a promise that if God answered her prayer, she wouldn't greedily keep the child for herself or use it as bragging rights towards Peninnah; she would treat the child as a gift from God and have no problems giving the child back to Him.
Hannah used her desperation and discouragement to reach out to God. Folks, sometimes this thing called life gets ugly. You won't be able to be going through something and maintain this perfect persona. Don't be a pretender with God. Get real. Let it all out. Give it completely to Him. TBH, He already knows.
Verse 13 says "she spake in her heart"... That means she meant what she was saying. She was not just trying to be politically correct or follow some routine she had learned in church. She meant that thing! I mean, Eli, the priest, thought she was drunk because she cared not about her composure or how she looked....
People will think you're crazy for trusting God despite the odds and despite discouragement; that's not your problem! Keep giving your situation to God! A wise person somewhere says, "While you're waiting for the door to open, praise Him in the hallway!"
Your haters may not have the same spiritual insight as you. They won't be able to understand how others will seem to prosper around you yet you manage to stay content in waiting for when God brings you to what He has already deemed yours.
I liken this to being sick and having to go to the doctor's office. You really only go to the doctor's when you first realize that something is wrong AND you want to get healing from it. You walk in, fill out some forms, and then wait your turn in the waiting room. Your healing will not come from being in the waiting room, but you're resting in the fact that you're much closer to healing by being in the waiting room. Even though you haven't seen the doctor to get your healing, you wait in anticipation because you know that you are on the verge of a change and your name will be called at any moment, to which your ailing will be over. That's how we need to be spiritually. You have to get to the point where you realize you're hurting and want to get to God, the Great Physician, for healing. Get yourself to the waiting room and rest there. Wait for your name to be called. Know that your name WILL be called when it's your turn. Some doctor's offices will have you wait longer than expected, but your name is ALWAYS called. You will ALWAYS get to the doctor, and the temporary hurt (NO MATTER HOW PAINFUL IT MAY SEEM) will cease, in exchange for a change in your situation. Just wait your turn.
Hannah walked out of that temple and claimed a turn around in her situation.
She knew that she had given the situation to God, and He was going to work out in her favor; she wouldn't need to worry.
Verse 19 says, "and they rose up in the morning early, and worshipped before the Lord".
Hannah redirected her focus from dwelling on her circumstances and Peninnah's torment, to relinquishing control and trusting God. She finally grasped the fact that she didn't need to compare her life to that of other's, but only trust in God to work when the time was right.
Read on in the text to see that in due season, Hannah's faith and clinging to God in her "season of lack" resulted in the birth of Samuel, whose name meant, "Because I have asked him of the Lord". Hannah's faith and dependency on God caused a turnaround for her situation,
but notice how she didn't renege on her promise to God
. The very name of her child, who God gave to her in due time, was a memorial for the great thing God did for her. As I mentioned earlier, Samuel was dedicated back to God and lived in the temple with the priest, Eli, and later became a prophet to God's people and counsel to the only man ever to be called "A Man After God's Own Heart"- David. Samuel provided spiritual guidance to the man who the Son of God would eventually descend from. WOW!
Continue reading chapter 2 to see that not only did God give Hannah Samuel, she gave him back to God and then God blessed her even more; she birthed 5 more children after that!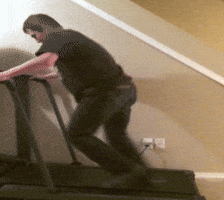 You have to get to a point in your life where you realize that life is not a comparative contest.
God's best for you is NOT dependent on what levels others reach.
Ultimately, your walk is between you and God.
Walk through this life with your focus upward.
When you walk with a focus on things around you, your vision is skewed. You'll get distracted by everyone else's process and progress. You'll end up doubting what God has for you because you can't see where He's leading because you're looking elsewhere. Did you know that Hannah's name meant, "Favor" and "Grace"? Before she ever even grew up to have fertility issues, God already pre-destined her to a life of favor and grace.
There was already a pre-determined victory with her name on it, in due time.
She temporarily "tripped and fell" because she took her eyes off of where God was leading her and looked around,
but when she redirected her focus back to Him, God brought her to her place of victory and it was tenfold what she even wanted.
Friend, God has something so intentionally planned for you. Customized and intricately tied up in a package with your name on it. Trust that it's yours and that it's the very best for you, no matter how difficult the waiting process may be. Trust Him. If your name is Suzy, why are you focused on Ashley's box? Wait for what's rightfully yours.
Being Freed From People Bondage,
IG: @jamekaleapoffaith_blog
God, I love you and your thoughtfulness. There is literally nothing that You haven't already worked out in our favor. You have victory with our name on it, if we just submit to your will and control. God, take the reins, and remove them from our hands. Our ways are certainly not as high as your ways. Even in our best mental construction, Your plan wins. Help us surrender control. Help us to have a dependence on you. God, I pray that we will learn to take our eyes off of what others are receiving, but wait patiently for the greater that You have determined will come our way. Help us to use what You do in our lives to glorify you. God, help us not rob you of glory when you prosper us. We are merely vessels being used by You. Help us to minister to others through our situations; before the wait, during the wait, and after. Use us for You. In Jesus' name, I pray. Amen.
Natalie Grant- Clean
Donald Lawrence & Tri City Singers- Encourage Yourself
Travis Greene- Made A Way
Shara McKee- I Held On
Sisters- I'm Gonna Make It
Bethel Music- Be Still
Crystal Lewis- Trust Me
Lauren Daigle- Trust In You
Dallyn Vail Bayles- Better Than I
Kiera Sheard- Praise Him Now